Chloe Dragon Smith
Co-founder
Chloe Dragon Smith was born and raised in Beghúledesche (Yellowknife), Denendeh (NWT). Of Métis, German, Dënesųłiné, and French heritage, her mother is Brenda Dragon and her father is Leonard Smith. Her maternal ancestors lived in relationship with caribou, travelling with the herds from areas around northern Saskatchewan and Alberta, through the NWT – Yellowknife and Fort Smith (where her mother and grandmother were raised). They thrived on the land now allocated as Wood Buffalo National Park, all the way up to the treeline and the tundra.
Chloe is passionate about relationships between Lands and peoples. She has a degree in Earth Science; however, she would say that she has learned most of what she knows from her family and her upbringing. Her work varies, from on-the-Land learning, to Indigenous-led conservation, to dealing with climate change. She is passionate about revitalizing Indigenous systems – self-determined systems of living, learning, management, economies, and governance. As a mixed blood person, she feels a constant responsibility to bridge barriers and help support balance however she can.
Wendy Lahey
Co-founder
Wendy Lahey was born and raised in Burlington, Ontario by her Polish mother and Cape Breton, Nova Scotia father. Her mother, Phyllis Bryk, grew up on a farm in Hamilton, Ontario and her father Sandy Lahey, grew up in the rural fishing village of Main-a-Dieu, Cape Breton. Wendy had two parents with large families with traditions that centred on fish, music and large quantities of food from the garden or the farm. She is grateful to have been raised simply with strong values of love and compassion. Being non-Indigenous, she feels very fortunate to live on Yellowknives Dene Land, Chief Drygeese, Treaty 8 territory since 2004 with her husband where she is raising her two children.
Wendy worked as a teacher for many years and is now an instructor of adults at Aurora College. Wendy holds bachelor's degrees in science/math as well as physical and health education and holds a master's in adult education, Indigenous health, and community development. She is interested in supporting a holistic approach to learning where children and educators appreciate and experience the deep value of Land-based learning.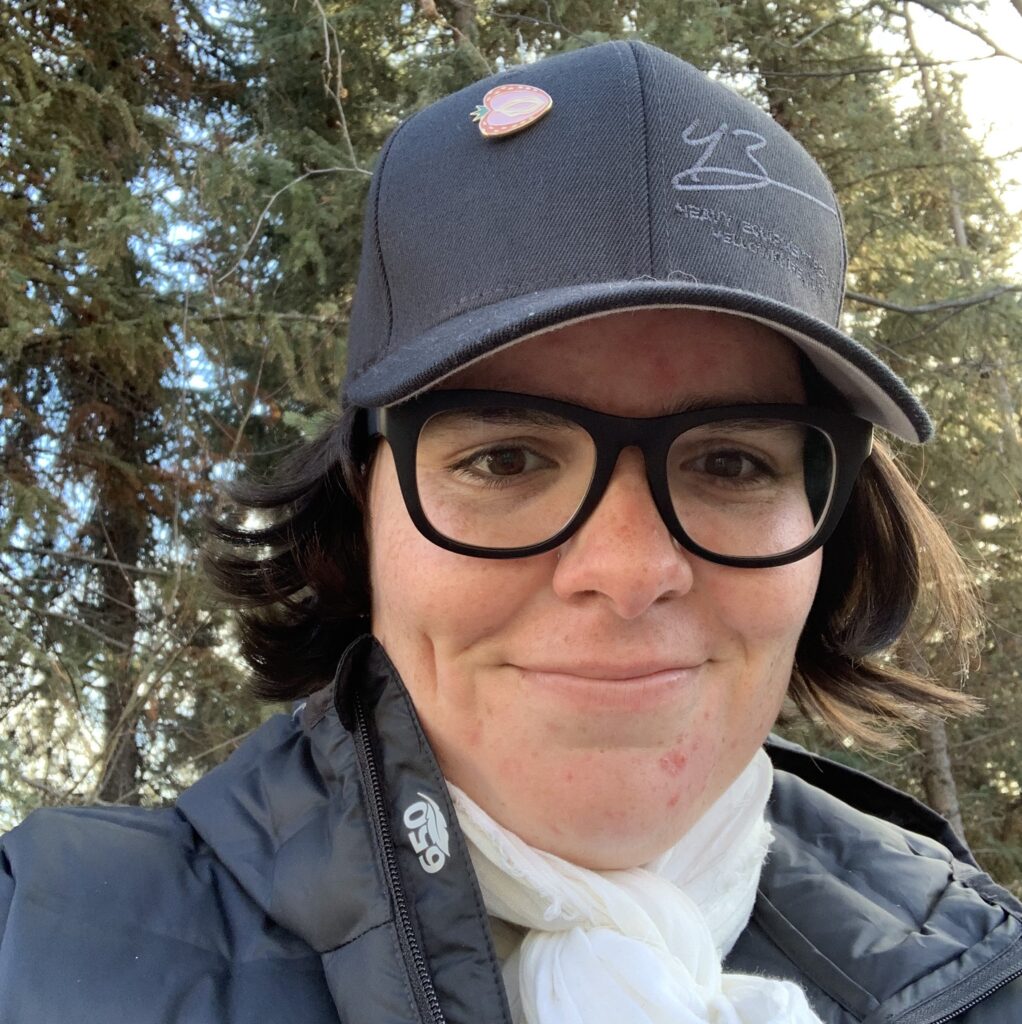 Cailey Mercredi
Educator
Cailey Mercredi was born and raised in Yellowknife, NT and is of Metis and Scottish heritage. Cailey's maternal side has a long history in Scotland, having immigrated to Canada in the 1960s. Cailey's paternal side of her family are from the South Slave area of the Northwest Territories and have resided in this area for centuries. Cailey's upbringing and family life are largely centered around love and connection. Growing up with a huge extended family in the Yellowknife area, Cailey was always attending and helping at family gatherings where food was shared, elders were honoured and connections were deepened. Preparing food for others has always been an important part of Cailey's life, something she tries to bring to Bushkids.
Cailey works as a Registered Massage Therapist, an End-of-Life Doula and a Birth Auntie. Her education and passions are fuelled by love and an innate desire for connecting with people on a heart-to-heart level. Cailey has two young children who she helps to guide through this world. She hopes her children will maintain a connection to the Land and to their ancestors. As a Bushkids team membership she gets to help others see the beauty of the Land, teach bush skills, and honour where we come.
Donovan Boucher
Educator
Donovan Boucher is from Rocher River, NT. He really enjoys the northern outdoors, living off the land, craftsmanship, hunting, trapping and fishing. He really loves the winters, we just need to dress warm and don't stop moving! Donovan currently works half the season with the environment department at Ekati. 
Shauna Morgan
Educator
Shauna Morgan was born and raised near Barrie, Ontario and has embraced Yellowknife as her home since 2008. She loves being out on the Land and sharing that experience with children. Shauna has enjoyed working with Bushkids since 2018 and completed the Forest and Nature School Practitioner's Course in 2019. Shauna splits her time between being a Yellowknife City Councillor, teaching piano lessons, working as a builder and snow carver at the Snow Castle, leading outdoor children's camps and doing consulting and facilitation work. She holds a B.A.Hon in International Development and an M.A. in International Affairs/Conflict Analysis. Shauna's favourite outdoor adventures involve cross-country skiing, canoeing, hiking, cycle-touring, hunting and fishing.