Learning Story – Donovan's Trapping Camp
The Week of November 15, 2022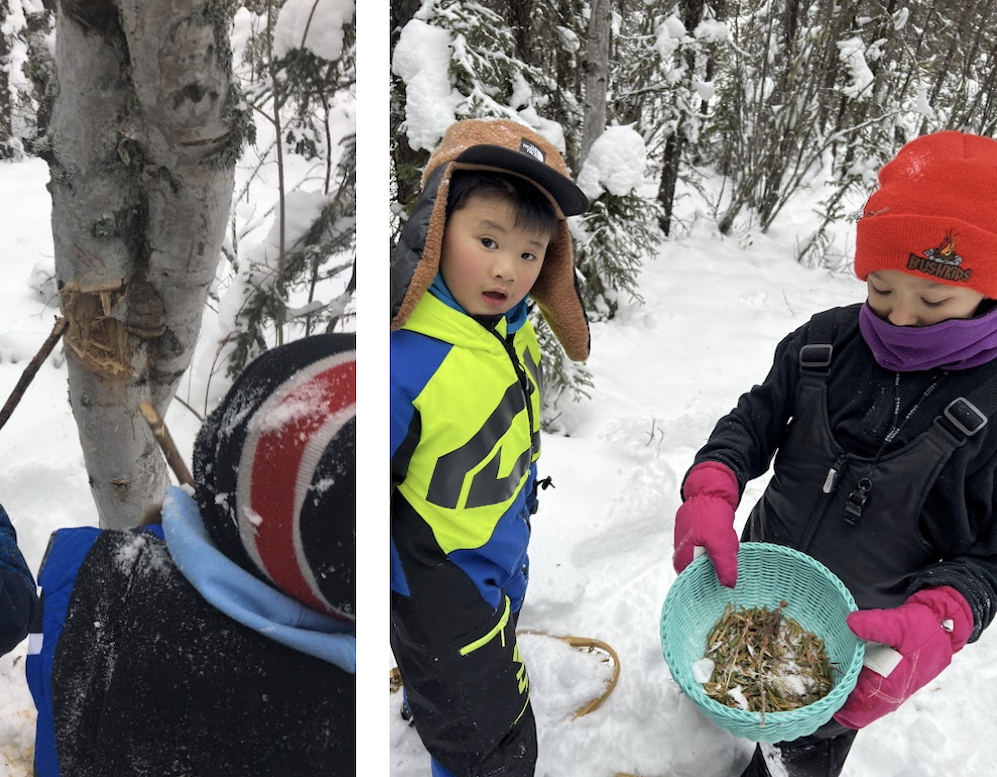 What did we do?
This was our second time at Donovan's camp and it was really clear that our Bushkids were familiar and settled in quickly. Last time a lot of our day was spent discovering the camp and surrounding
areas and there were many questions. This week our Bushkids recognized areas on the trail when we were walking: "Isn't that where you put the lynx trap?" "Oh I remember this big hill!" They really seemed to be more at home and noticed more fine details about the land we were on. Several Bushkids noticed that there were so many more "pine cones" (spruce cones) at Donovan's camp than at our Bushkids site. Many of the Bushkids put on snowshoes again and explored the forest a little further from camp.
Donovan had erected his teepee and we enjoyed our morning circle inside it, we didn't have that last time. The smoke got a little bit thick in the teepee when the fire was getting built, the Bushkids learned about why the smoke is thicker up higher when you stand up in the teepee rather than sitting down. When they cooked their hot dogs they chose to sit beside the fire pit to avoid the smoke.
On the trail walk to and from the camp we got to set a few new snares and add fresh bait to some of the ones we set up last time. It was such a mild day that everyone was really comfy and stayed warm and dry most of the day; last time it was colder. We were sheltered from the wind with all the big trees around the trail and camp!
Why was that important?
Having an opportunity to get comfortable on a new area of land is really important and we saw that this week with our field trip. It gave a chance for everyone to notice and remember little details, while having the confidence to find new areas to explore. We also had a much smaller group, only ten Bushkids – this invited new groups of Bushkids to play together.
We noticed that different kinds of play emerged at Donovan's camp than we usually see at our Bushkids site because the land is different.
What will we do next time?
Next session we will be back at our regular Bushkids site and we will chat with the Bushkids about what differences they notice from Donovan's camp and what kind of different play they engage in because the land is different.
Some of the Bushkids harvested some fungi and bark from a hollowed out birch tree and other trees around the camp. We will bring these to our site and see if they can find similar things around our area.